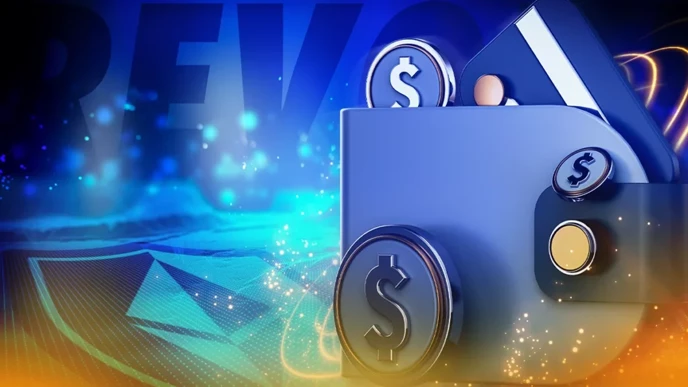 What is Revoke.Cash?
Revoke.cash is a browser extension which allows users to remove allowances from dApps and smart contracts. Apps like UniSwap and OpenSea require token permissions which allow them to spend tokens on your behalf. If you do not revoke these allowances, you could lose your tokens. 
Revoke.cash allows you to connect the browser extension to inspect and revoke any and allow allowances made by your wallet. It is an essential part of a wallet security toolkit!
Why Should I Use Revoke.Cash?
There are a few reasons why you should use Revoke.cash.
Many dApps require users to provide access to their crypto wallets so as to be able to interact with them. For that, users have to manually grant approvals.
Here are some examples of such interactions:
To swap cryptos on a decentralized exchange such as Uniswap, you have to enable this exchange to access your wallet and pay a small gas fee.
To list an NFT on OpenSea, you have to grant this marketplace access to the NFT collection that you store in your wallet.
If you need to deposit a specific sum into a smart contract, the allowance for exactly this amount would be sufficient. Yet, apps usually request unlimited allowances. This helps to avoid unnecessary requests in the future and makes users' lives easier.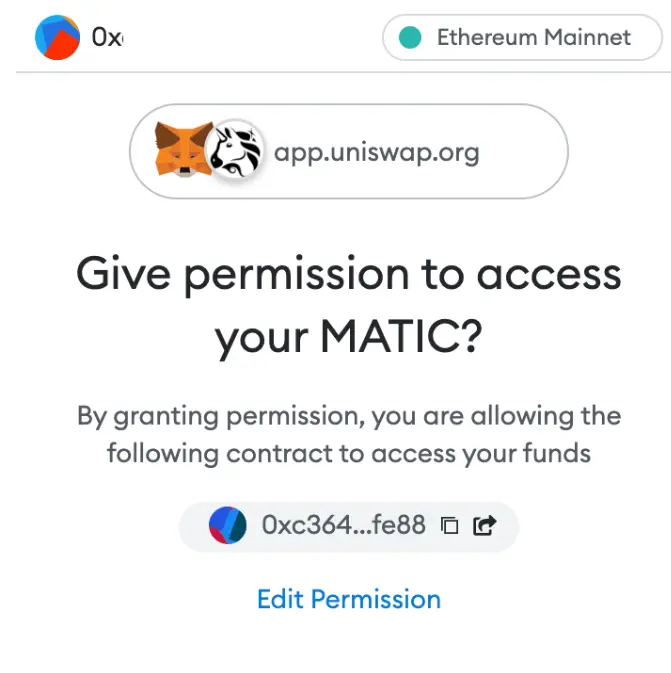 Granting approval for these actions may look pretty harmless at the first glance. Yet, things are not as secure as they may seem to be.
The key danger lies in the indefinite lifespan of such approvals. This means that all of them will remain active until you revoke them yourself.
Without regular cleanups, the approvals will keep accumulating over time. If any of these dApps gets breached, there is a good chance of hackers laying their hands on your wallet through these allowances. 
This is why it is so vital to Etherscan revoke excessive permissions and this is exactly what Revoke.Cash does.
Still having doubts? Here's one more reason for you to consider. 
The internet swarms with the stories of people losing their Bored Apes and other valuable NFTs. Many of these thefts could've been prevented should the victims have revoked their wallet permissions and cleaned their allowances in time.
How To Use Revoke.Cash
As the official page on GitHub states, Revoke.Cash inspects all the contracts that users have approved to spend money on their behalf and revokes access for those that users don't need anymore.
Below, we are going to give step-by-step instructions on how to use Revoke.Cash to track all the approvals that you've ever granted. Then, we will explain how to revoke them.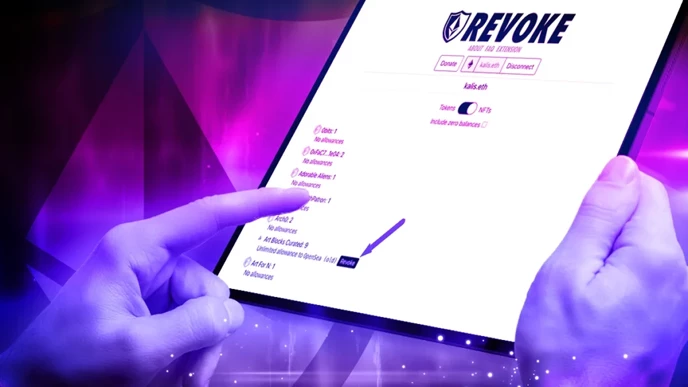 How To Revoke Permissions
1. Connect your wallet
Click on the relevant button and in the pop-up window select one of the supported wallets. Follow the instructions within the wallet's interface to connect it to the service.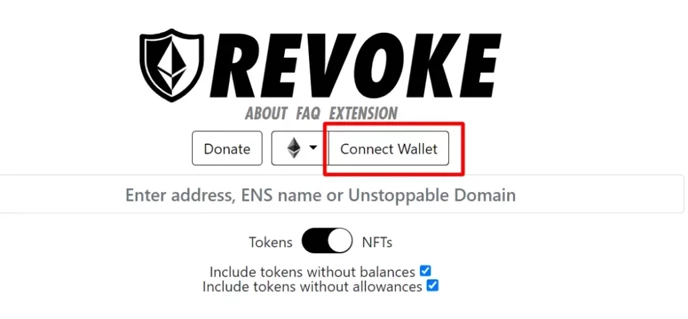 2. Review the allowances
Revoke.Cash provides the list of dApps and tokens that your wallet operates with. If you switch the toggle button to "NFTs", the app will similarly show all the NFT collections that reside inside your wallet.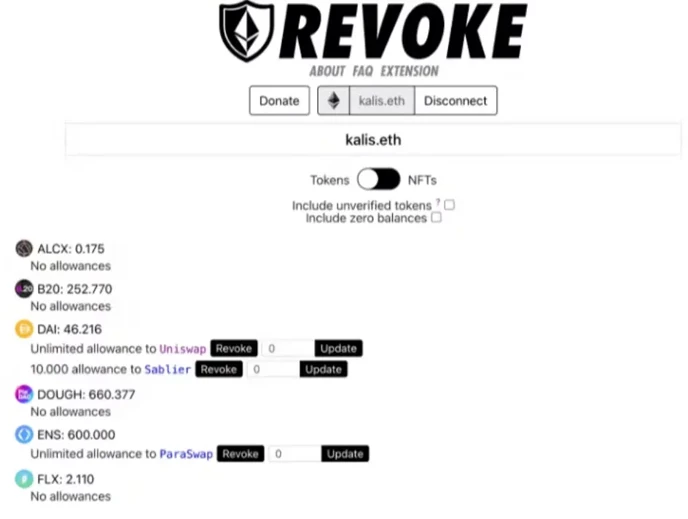 3. Revoke Allowances with Revoke.Cash
Identify an excessive allowance and click the "Revoke" button next to it.
After that, you will have to confirm a new transaction in your wallet. Note that you will also have to pay some gas fee for that, just like with any other regular transaction.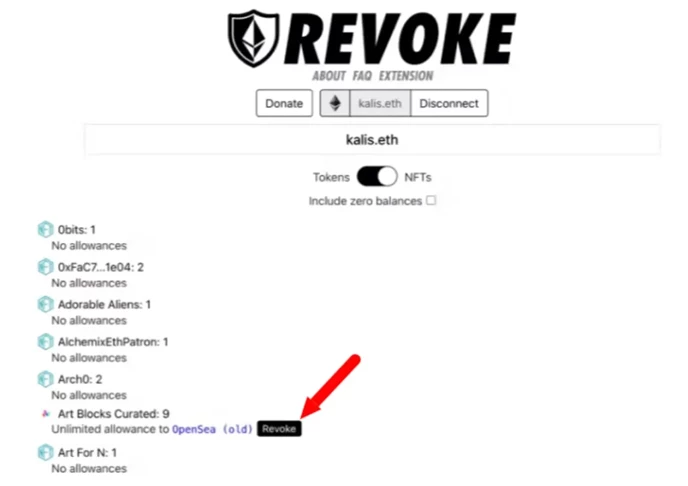 Is Revoke.Cash Safe?
If you ask such a question, get a well-earned "A" for completing your homework. The question is quite reasonable to ask, especially since the application needs permission to operate with your wallet and thus gains access to your funds.
Yet, there's nothing to fear. Revoke.Cash is a legit application created by a real person, Rosco Kalis. He has a few other IT products behind his belt such as Truffle Plugin Verify, Truffle Assertions, and Panda Suite.
The source of Revoke.Cash itself is also available on GitHub for any interested party to verify. In fact, the tool has become the industry standard for revoking token and dapps' approvals.
Revoke.Cash Alternatives
Revoke.Cash remains the number one solution of its kind. The alternatives to this tool are quite difficult to find.
The key problem with various catalogs such as Alternative.to or Similarweb is that they can practically never find true alternatives to such narrow-focused solutions. They simply list the tools that only remotely resemble the source app.
Yet, we have found a few. These tools may be interesting for those who want to enhance their assets' protection further.
1. Premint
Website: www.premint.xyz
This tool focuses on the NFT market as it enables artists and other NFT creators to build allowlists for specific projects.
2. Token Allowance Checker
Website: tac.dappstar.io
The tool claims to help users to control Etherscan revoke ERC20 token approvals.
At the time of writing, the website seems to be offline, though. The source code is only available on the official GitHub page.
3. Unrekt
Website: www.unrekt.net
This is one more smart contract allowance checker that claims to support ETH, BSC, AVAX, and a few other blockchains.
Bottom Line
If you are a prudent cryptocurrency user who never visits suspicious websites and only operates on safe and well-known platforms, your risks to lose funds due to excessive allowances are minimal.
Yet, they never equal zero.
Uniswap has fallen victim to scams many times throughout its existence, as well as OpenSea. Indeed, these were mostly insider or phishing attacks. But there's no guarantee that the next successful hack will not concern allowances.
This is why it is crucial to maintain your wallet hygiene and clean up permissions that you grant even to reputable resources.
Revoke.Cash is so far the best tool for this purpose.
Join The Leading Crypto Channel
JOIN