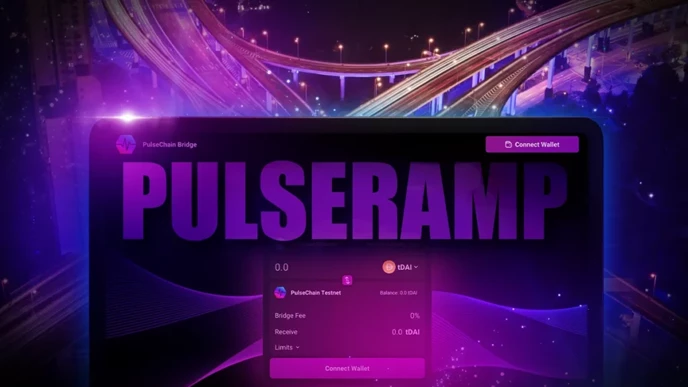 PulseRamp is NOW LIVE!
But before you start bridging in value from Ethereum, make sure you understand everything you need to know about the official PulseChain Bridge.
What is a Blockchain Bridge?
A blockchain bridge is a technological solution that enables the transfer of assets or data between two or more blockchain networks. 
It serves as a link, connecting separate blockchains and allowing them to interact and share information securely and efficiently.
In the world of blockchain, each network operates independently with its own set of rules and protocols. 
This independence can create challenges when users want to move assets from one blockchain to another. 
A blockchain bridge addresses this issue by establishing a connection between these networks, enabling seamless interoperability and cross-chain transactions.
What is the PulseChain Bridge (PulseRamp)?
PulseRamp is the Official PulseChain Bridge. 
PulseRamp was built by the community in 6 months from August 2021 to January 2022.
It is a fork of OmniBridge which is an extension of TokenBridge. 
Despite bridges typically being one of the most vulnerable smart contracts, TokenBridge has multiple audits and has worked without failure.
The PulseChain Bridge allows users to transfer tokens to PulseChain from Ethereum and vice versa. 
You can see PulseRamp deposits on Etherscan here!

Users deposited several million dollars in just the first hour!
How Does PulseRamp Work?
Without getting too technical, PulseRamp works by locking tokens in a smart contract on the source chain and minting them on PulseChain.
For example, users can take ETH on Ethereum and lock them in the PulseRamp pools.
PulseRamp will then mint that user a Wrapped ETH on PulseChain which they can use to trade, send and provide liquidity.
Since ETH has a dollar value, and the Wrapped ETH is directly redeemable for the original ETH, there are now prices in dollars on PulseChain. 
If the user wants to return to Ethereum from PulseChain, they will simply return their wrapped ETH which will be burnt, then the ETH on Ethereum will be released. 
How To Use The PulseChain Bridge
FROM ETHEREUM TO PULSECHAIN
Choose which digital asset to bridge
Choose Amount
Click "Send"
Wait for the bridge to process the transaction
Change networks to view your wrapped tokens
FROM PULSECHAIN TO ETHEREUM
Choose which WRAPPED TOKEN to bridge back to Ethereum (NOTE: Copied USDC is not the same as bridged in eUSDC. The same goes for copied ETH, USDT, DAI and many others.)
You can find the correct contract addresses for the Wrapped Tokens on PulseChain below
Take your wrapped tokens to PulseRamp
Make sure you are bridging from PulseChain to Ethereum
Click "Send"
The wrapped tokens will be burnt, and the underlying collateral will be released
Switch networks to Ethereum to see your tokens
The Bottom Line
Blockchains are isolated from other blockchains.
Bridges are a solution for this which enable cross-chain transfers. 
Without direct fiat on and off ramps, bridges are the only way to get economic energy on and off blockchains.
PulseRamp is the first PulseChain Bridge and will likely have the most volume.
Join The Leading Crypto Channel
JOIN