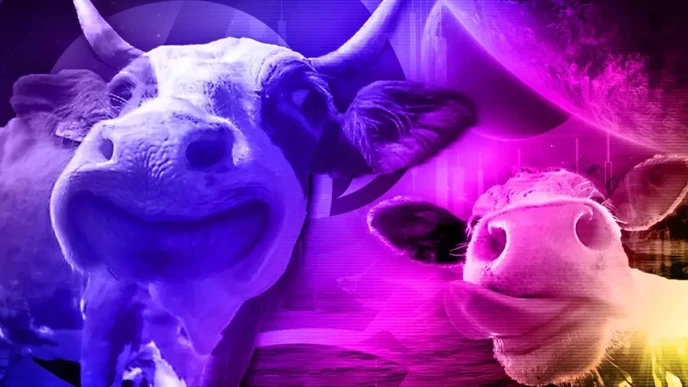 CoWSwap is an innovative solution aiming to help traders find the lowest price across various platforms and dex aggregators.
To achieve its primary goal, CoWSwap's trading interface built on top of UniSwap relies on the principle known as "Coincidence of Wants". This approach enables two traders to exchange different assets directly with one another.
"CoW is an exceptional way to optimize order execution with great capital efficiency. This type of peer to peer transaction is central to the ethos of crypto and lessens the liquidity needs of decentralized protocols."

- WaLLrus
What Does "Coincidence of Wants" Mean?
Humanity has long been using money as a means of exchanging goods and services. 
Yet, sometimes situations may emerge when two parties possess the items that the other one desires. In this case, they may exchange these items directly without involving any monetary medium.
This is exactly what the coincidence of wants (CoW) refers too.
In reality, such situations are very hard to come by, though. The problem with the direct exchange of physical goods and services is obvious. Assume a person possesses a Mercedes Benz and wants to exchange it for a small house in a certain district. At this, it would be nearly impossible to find a party in this district that wants exactly the opposite.
However, such a method of exchanging value is much more realistic within the markets of stocks and digital assets. With its help, investors can buy and sell these assets directly between one another.
What is CoWSwap?
CoWSwap is a decentralized protocol that relies on the CoW principles. It connects traders who want to exchange specific assets at a given moment in time on a peer to peer basis by leveraging batch auctions.
These auctions help to maximize chain liquidity via the Coincidence of Wants. At this, the CoW protocol continuously runs these auctions while the solvers, i.e. the parties who look for the most optimal settlement, constantly compete with each other.
In case the CoWSwap protocol cannot find traders to match, it scans a vast number of external exchanges and aggregators such as UniSwap v3, Balancer, and 1inch. Thus, it tries to allocate liquidity providers that fit the request. At the time of writing, it supports Ethereum and Gnosis.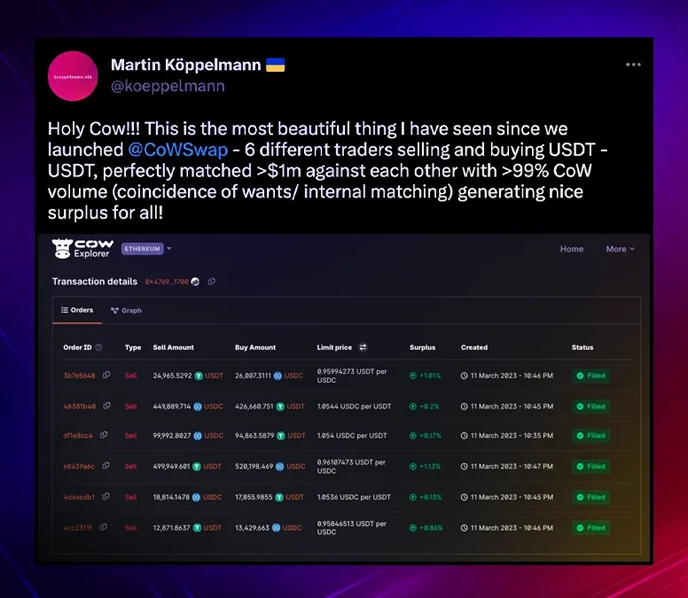 CoWSwap Advantages
Such an approach provides traders with the following benefits:
No middlemen. CoWSwap protocol eliminates third parties from the exchange process that would otherwise charge additional trading fees.
The best price. It searches for the best price in real time to exchange assets automatically.
MEV protection (Miner Extractable Value). CoWSwap submits transactions in batches on-chain while hiding them from the public mempool. Such an approach protects traders from frontrunning, sandwiching, and other types of attacks performed by bots.
No gas expenses on failed transactions. Traders only have to pay network fees in case their orders were successful.
CoWSwap vs Uniswap
The CowSwap interface may look familiar to an average DeFi user since it relies on the open-source code of Uniswap. Yet, there are some distinctive features that make it stand out:
Multiple liquidity sources. To connect traders, UniSwap only uses its own pools supported by market makers. CoWSwap doesn't have any liquidity providers of its own. Instead, it connects to Sushiswap, 1inch, and many other solutions of this kind to help its users find the best price.
Direct exchange. CoWSwap doesn't require users to pass their trades through the liquidity pools. Instead, it provides an opportunity for the parties to switch assets directly.
Gasless orders. The orders on CoWSwap represent signed messages that don't require any gas. As mentioned earlier, users don't have to pay any network fees when transactions fail as they do on UniSwap.
All these factors make CoWSwap a truly superior solution capable of solving the issues relevant to UniSwap and other similar platforms.
What Was the CoWSwap Airdrop (COW Token)?
In March 2022, CoWSwap completed the airdrop of its governance token, COW. In order to qualify for the airdrop, users had to fall under any of the following criteria:
Get rewards in the form of POAP NFTs. For that, users had to participate in the testing or research sessions, Batch challenges, or CoW stars.
Get involved in trading activities. Those users who performed a specific number of trades on the Ethereum or Gnosis blockchain within a certain period were also eligible for receiving an airdrop.
Hold specific tokens. Finally, users were awarded for holding GNO tokens on LP tokens of Balancer, Uniswap, and a few other decentralized exchanges.
The COW token itself serves governance purposes. It provides its holders with voting rights within the CoW DAO. At this, they can curate important components of the system, such as system parameters, staking options, protocol revenue, and more.
Those who don't want to participate in any of these activities can simply sell the token on any of the exchanges that support it. At the time of writing, COW is available for trading on Uniswap, Balancer, Gnosis, and a couple of centralized exchagens such as BKEX and CoinEx.
Is CoWSwap Legit?
CoWSwap offers a fully developed product that is legit and secure to use. It has passed two security audits by G0 Group and Hacken. The results of their studies are available on the CoWSwap website for any interested party to check.
At this, G0 Group has only discovered one low-priority issue. According to the report, some parts of the functionality haven't been fully tested. Another minor vulnerability discovered by Hacken enabled attackers to fill orders in small increments without the buyer receiving a single unit of the desired asset. The report states that this issue has been removed.
Yet, despite these security measures, CoWSwap suffered a successful hacking attack. On February 7th, 2023, an unknown hacker drained the platform by more than $181k worth of BNB using 'solver' exploit.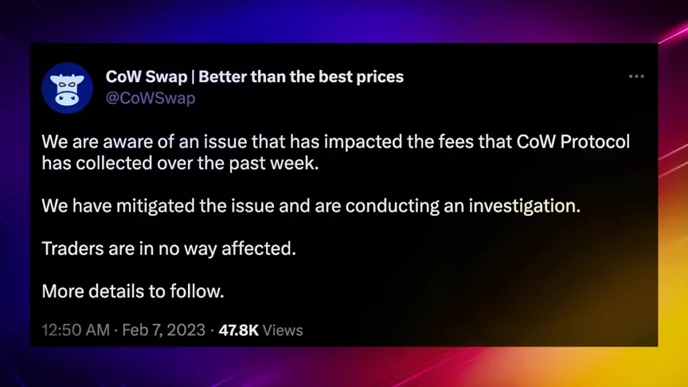 The attack has had no effect on the end-users' funds. The exchange claimed that the exploited contract was only storing the fees that had been collected in a week.
Such an event surely arises concerns about the project's security. Yet, there is no such thing as 100% safety in crypto anyway. Even a hardware wallet can be hacked which certainly makes life much more interesting.
Anyway, despite these minor security issues, CoWSwap represents a truly promising solution worth investigating.
Join The Leading Crypto Channel
JOIN